Spring Festival Holiday of 2020 started from end of Jan., but the Covid-19 Pandemic broke out from Wuhan, China when the holiday had just begun! To stop the spreading of the disease as much as possible, Chinese government have delayed the re-opening of all business, including factories, shops and schools. Big amount of doctors, nurses and other health care workers were sent to Wuhan to help the hospitals there that are full of Covid 19 patients!
At 10 AM on 9th Feb., Su-pack got an urgent order to make face shield for a customer, it is super-urgently needed. GM of Su-pack, Mr. David Jiang has liased with our local government's Covid-19 controlling head quarters as we need to re-open our factory. After full preparations are done as per their guidelines and when we passed their inspections, we have re-opened our factory on 10th Feb.!
On the first day of re-opening, a meeting was held about the urgent project of PET face shield and a decision was made that, on one hand, we will prepare for the customer's order, coordinate in material purchasing, equipment preparation, workers arrangement, logistic allocation, on the other hand, as the face shield demand in market has increased drastically due to the serious Covid-19 situation, we will produce more amounts of face shield just for donation, we are aiming to help hospitals, public service workers and other company workers when they need to return to their work.
Our target is, "No seek of benefit, Start from heart". This is a public benefit activity that Su-pack wants to set up to help out with the pandemic!
It is easy to make a decision, but difficult to realize it. At the time when most factories, suppliers are still closed, all procedures are becoming very difficult, not to mention that we are a new producer of medical equipment. Based on our current capabilities in production, we have set up special lines to make face shields. We have overcome all difficulties to produce the face shield rapidly in good quality.
From 16th Feb., Su-pack has sent about 30 ctns, 10,000pcs face shields to Han Kou Hospital in Wuhan, Jiangsu Huang shi Medical Team and other community hospitals in Wuhan. And we have also donated totally more than 22,000pcs face shield to Yangzhou Guang Ling Charity Association, Yangzhou University Affiliated Hospital and other companies in Guang Ling Industry Park.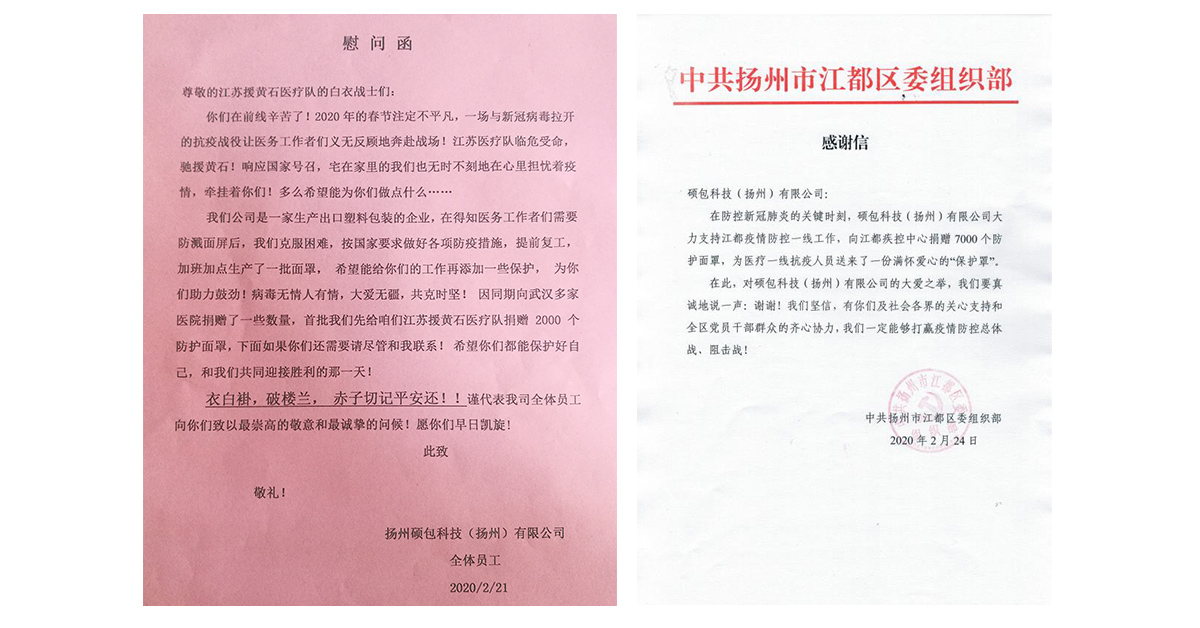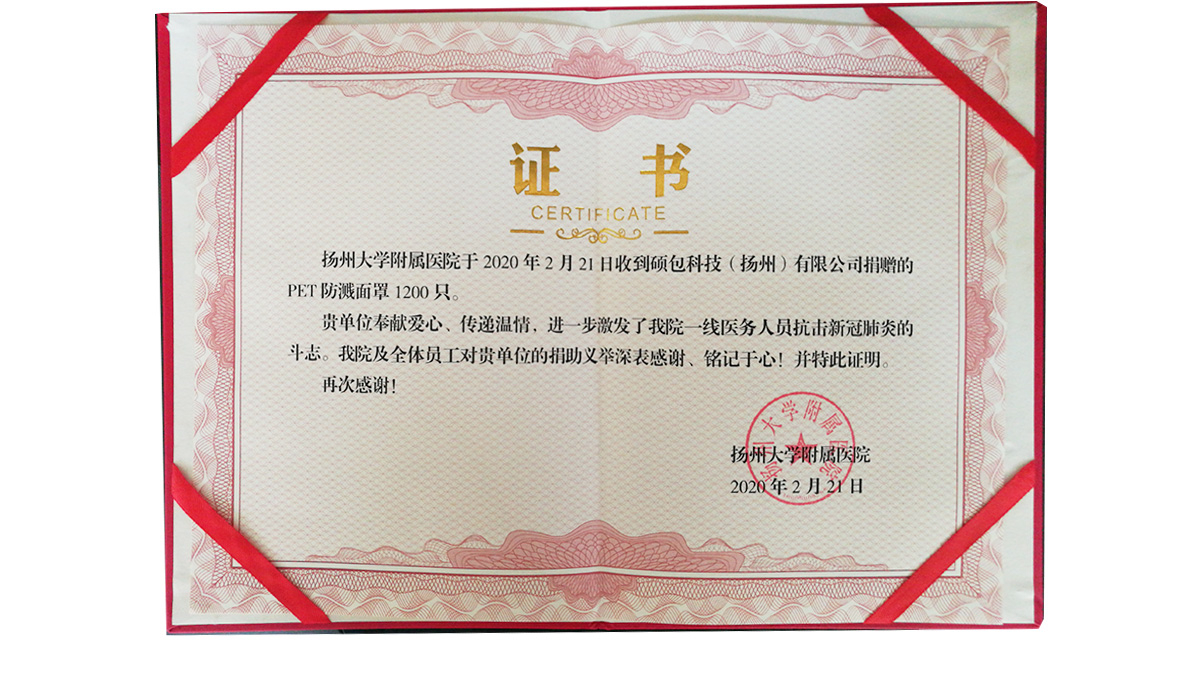 As Deputy to the District People's Congress, Mr. David Jiang, G.M. of Su-pack, said, "We should follow the government's guidelines to ensure workers' safety, control and prevent the Covid 19 spreading! We will show us as an advanced model to fight against the Pandemic and recover our production and country economy!"
During the Pandemic in Feb., thanks to the group working of all Su-pack team, we have not delayed any shipment of any foreign customers' order!
In Apr., when United States were having the serious Pandemic, we donated 1000pcs face shield to South California University Hospital, to help them fight against Pandemic. We wish the Pandemic will be overcome by all the countries in the world very soon!
Su-pack has shown herself as a responsible Chinese supplier, who have put social responsibility in her first consideration!